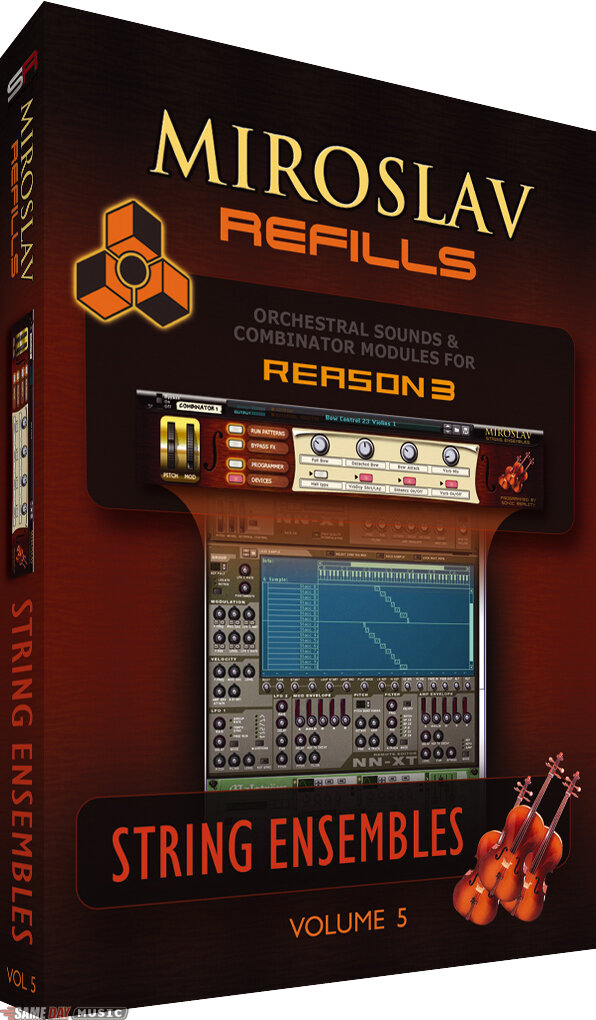 Miroslav Refill: Ensemble Strings
Beautifully sampled ensemble strings from the legendary Miroslav Orchestra collection. Featuring 11 and 24 violin sections, violas, celli and basses played in a variety of performance articulations such as legato, staccato, pizzicato, tremolo, sul ponte, spiccato, detache and more. Includes additional bonus symphonic textures and powerful interactive orchestra combis.
Made for Reason 3!
For the first time, the legendary high-end Miroslav Orchestra and Choir libraries have been specifically designed for Reason 3. Each volume features its own unique Combinator interface with performance parameters designed to make it easy to get a lush and full orchestral sound with incredible realism and expression.
Each Miroslav Refill comes on a DVD and includes samples from the original Miroslav Vitous Symphonic library, plus additional articulations, ensembles and performance elements designed for use with Reason 3's Combinator module and NN-XT sampler. The samples were recorded in the Dvorak Symphony Hall in Prague and in their true spatial positioning.
LINKS:
http://rapidshare.com/files/247847601/Miroslav_String_Ensembles_Refill.part01.rar
http://rapidshare.com/files/247859373/Miroslav_String_Ensembles_Refill.part02.rar
http://rapidshare.com/files/247511658/Miroslav_String_Ensembles_Refill.part03.rar
http://rapidshare.com/files/247511321/Miroslav_String_Ensembles_Refill.part04.rar
http://rapidshare.com/files/247559605/Miroslav_String_Ensembles_Refill.part05.rar
http://rapidshare.com/files/247526759/Miroslav_String_Ensembles_Refill.part06.rar
http://rapidshare.com/files/247563015/Miroslav_String_Ensembles_Refill.part07.rar
http://rapidshare.com/files/247871419/Miroslav_String_Ensembles_Refill.part08.rar
http://rapidshare.com/files/247884140/Miroslav_String_Ensembles_Refill.part09.rar
http://rapidshare.com/files/247890647/Miroslav_String_Ensembles_Refill.part10.rar