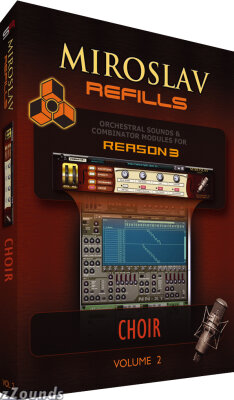 Miroslav Refill: Choir
Classical male and female human voice choirs with performance articulations and individual syllables for the ultimate in expression and tonal variation. From ohs, ahs, uhs to syllables like Po, Do, Re, Mi, Si, glissandos and other performance variations, these choirs cover a wide range of colors and are the ideal companion to the Miroslav orchestra. Includes additional bonus symphonic textures and powerful interactive orchestra combis.
Made for Reason 3!
For the first time, the legendary high-end Miroslav Orchestra and Choir libraries have been specifically designed for Reason 3. Each volume features its own unique Combinator interface with performance parameters designed to make it easy to get a lush and full orchestral sound with incredible realism and expression.
Each Miroslav Refill comes on a DVD and includes samples from the original Miroslav Vitous Symphonic library, plus additional articulations, ensembles and performance elements designed for use with Reason 3's Combinator module and NN-XT sampler. The samples were recorded in the Dvorak Symphony Hall in Prague and in their true spatial positioning.
LINKS:
http://rapidshare.com/files/247476968/Miroslav_Choirs_Refill.part1.rar
http://rapidshare.com/files/247777480/Miroslav_Choirs_Refill.part2.rar
http://rapidshare.com/files/247789921/Miroslav_Choirs_Refill.part3.rar
http://rapidshare.com/files/247800927/Miroslav_Choirs_Refill.part4.rar
http://rapidshare.com/files/247813450/Miroslav_Choirs_Refill.part5.rar
http://rapidshare.com/files/247825850/Miroslav_Choirs_Refill.part6.rar
http://rapidshare.com/files/247835152/Miroslav_Choirs_Refill.part7.rar